The Daily Mail has come with its
pseudo-scientific recipe for pancakes.
Just had to share with you.
This is the science bit...
( Sorry, I couldn't resist. )
Pancake perfection! 100 - [10L - 7F + C(k - C) + T(m - T)]/(S - E)
The science: The formula was developed by researchers at the University of Wolverhampton
For the full article, click
here.
The Guardian had its own recipe.
I do appreciate their take on it because they do consider every aspect and ingredient of a recipe.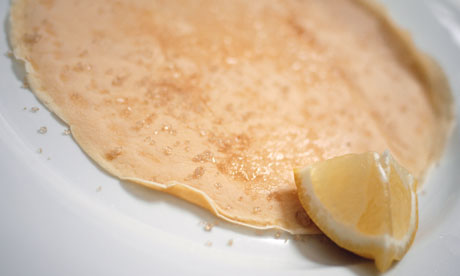 I tend to try their recipes as they seem to have thought out methods and decide on the pros and cons.
For their recipe, click
here.
Now, I am sure there are steadfast Delia fans out there. She is the go to for people who just want things done straight.
So here is the link to her recipe
here.
Not much more to add but Delia does that to people.
You just give her the floor and she gets on with it...
Now, what would Jesus Martha Stewart do?
This is what she would do.
I do find it fascinating that even for a simple thing like this -
there are such nuances...
Happy Shrove Tuesday and Mardi Gras everyone!